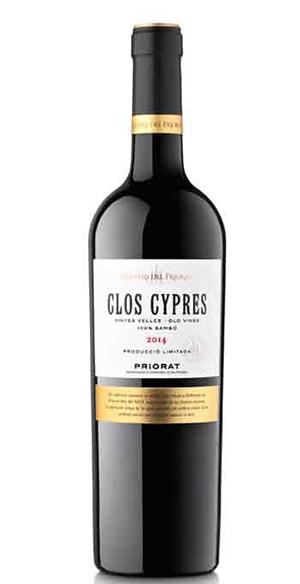 VARIETIES
100% 100% Samsó (Carignan or Mazuelo)
PRODUCTION
The vinifcation takes place in barrels of 500 liters, where subsequently malolactic fermen- tation occurs spontaneously. The wine is aged in the same barrels for 12 months.
TASTING
This is a wine from southern Priorat, which marks with a lively, warm and fragrant vein the serious, deep and enigmatic character of old vineyards. Blackberry aromas with balsamic notes typical of the brushwood. The palate is remarkably mature and fresh at the same time. It has a natural elegance, as the vision of a landscape where the passage of centuries have managed to harmonize everything. It's like an invitation from nature.
FOOD PAIRING
Clos Cypress is the perfect wine for both forcefulness and subtlety: a game recipe –par- tridge with chestnuts, wild boar stew, pigeon rice–, an oily fish stew... any of those dishes that require hours of slow, caring cooking. It is perfect with intense dishes based on Spanish sauce, scented with black truffe and cooked on dark chocolate. At last, we have a wine made for meditation, conversation and enjoying quiet pleasant moments.
TECHNICAL INFORMATIONS

ALCOHOLIC STENGHT 14,5%

SERVING TEMPERATURE 14/16º

TIME EN BARREL 12 months