The Winery Viña Costeira was established in 1968. Only two years later it launched to the market the brand Pazo, the first Ribeiro wine bottled and labelled.
At the same time, the Winery Vitinícola del Ribeiro made relevant steps to achieve two goals that were also the dreams of all the Galician wines lovers: to recover the quality varietals that made the best ribeiro and modernise the winemaking techniques.
A very intnese work of motivation of the partners – about eight hundred nowadays – and high investments in improving the facilities have made our wines become a solid reference in the Galician wine business.
Ribeiro

D.O. Ca. Rioja
PRODUCTION
After a careful fermentation under temperatures not exceding 28ºC, the wine is kept in vats for 12 months to allow it to stabilize. The wine is aged in oak cask and then bottled for a combined total period of 36 months prior to release.
TASTING
Brillant red with shimmers of terracota. Elegant bouquet with tones of vanilla. Good structure and full bodied. Complex and well-ballanced.
FOOD PAIRING

Perfect with red meats, venison and cured cheeses.
TECHNICAL INFORMATION

TIME IN BARREL 24 months
Tiempo en botella 24 months

Silver Medal Concours Mondial de Bruxelles 2012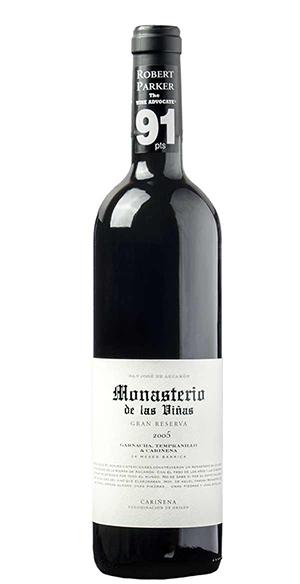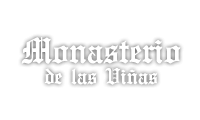 VARIETIES
Garnacha 60% - Tempranillo 30% - Cariñena 10%
Garnacha, Tempranillo and Cariñena harvested in mid-end September from our 40 to 50 years-old bush-vines.
PRODUCTION

100% of our clusters were handpicked early in the morning to arrive fresh at the winery. They were then cold-macerated prior the fermentation for 96 hours at 6ºC, also known as "cold soak".
The primary fermentation took place during 8 days in stainless steel tanks under controlled temperature at 28ºC. Once the fermentation finished, the wine stayed "Post-Fermentation Maceration" from 15 to 20 days to extract the grapes potential to the utmost.
We let the Tempranillo and Cariñena aged for 24 months in French oak barrels while the Garnacha aged for 24 months in American oak barrels (225 L. barrels). We chose a final blend from the best barrels and then kept the wine in the bottle for 36 additional months.
TASTING
A glass-coating opaque purple color, it has greater density and grip than the Reserva cuvee as well as layers of ripe, sweet fruit. Nicely balanced wine.
THE WINE ADVOCATE ROBERT PARKER 91 POINTS (2005 vintage)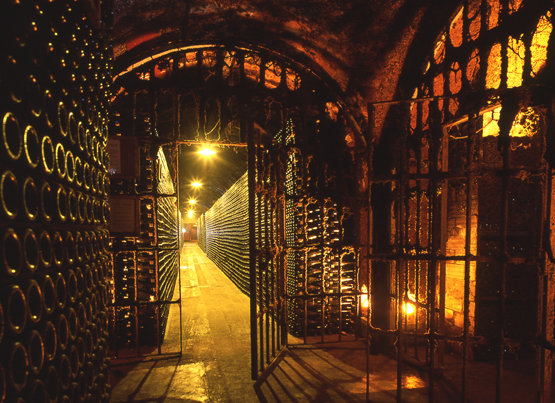 When in 1954 Segura Viudas gathered the evidence of lands that today form the Heredad, we already knew the centennial agricultural tradition that took place and some references of the vestiges that their walls were hiding. Evenly, we were aware of the value a privileged emplacement like that could pass on to the cava and wines.
50 years later we still being loyal to that foundational view: a view guided by the consistency and respect for the land, the landscape and the history that integrates the latest scientific knowledge in an environmental sustainable plan. Just so, we understand we can create the cava and wines in harmony of the Heredad.
Cava de Sant Sadurni d'Anoia

D.O. Ca. Rioja
PRODUCTION
The must is fermented at a maximum temperature of 28°C. After fermentation, the wine is transferred to oak casks to slowly mature for 6 months prior to its release.
TASTING
Cherry red colour. Very aromatic on the nose. On the palate it has red fruits, creamy notes and liquorice. Medium bodied, good structure and persistent.
FOOD PAIRING

Perfect with roasts and grilled meats.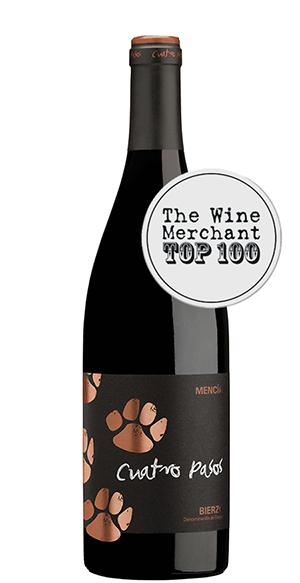 VARIETIES
100% Mencía
PRODUCTION
The discovery of four bear footprints in a magnificent vineyard in the highest areas of the Bierzo inspired the name of this wine.
Four firm steps are necessary to reach excellence: the selection of the land, the care of the vine, a suitable climate and carefulness in the vinification.
Four places: Otero, Hornija, Corullón y Valtuille with four different stories that define the character of their people and vines.
And this is how Four Steps came about, 100% Mencía elaborated from grapes chosen from the over 80-year-old vines from the slated lands located in the high areas of the Bierzo region.
After its vinification, its brief maturation is carried out in barrels of oak originating from four woods: American, Allier, Limousine and Nevers…
TASTING
Appearance: morello cherry red with violet reflections.
Nose: medium-high intensity. The varietal aromas of red friuts predominate with a subtle hint of the toasting of wood.
Palate: elegant and balanced in the mouth.
Aftertaste: very fruity varietal.
WINE AND FOOD PAIRING
Roast or stewed meat, small game, carpaccio, barbeques, cured meat, pastas, pâtés and goat's cheese.
TECHNICAL INFORMATION

ALCOHOLIC STRENGTH 14%

SERVING TEMPERATURE 18º

TIME IN BARREL 2 months in French and American oak barrels

AWARDS
Gold Bacchus 2013
Gold Medal International Wine Challenge
Silver Medal Baco Joven 2013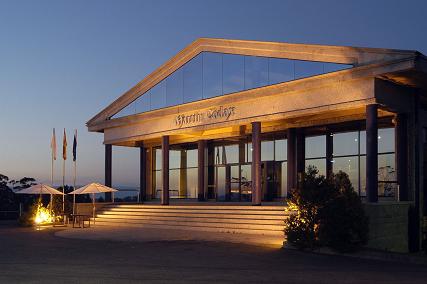 Bodegas Martín Códax was founded in 1986 and was named after the most known Galician troubadour whose medieval poems, the oldest of Galician-Portuguese language, are preserved. In the poems, the troubadour sings to love and to the sea of our coastline.
Since it's founding, Bodegas Martín Códax has grown and developed; always supporting its people, its land and its culture. The culture is promoted in more than 40 countries over the world.
A project that started with the dream and efforts of a group of winegrowers is now a reality and it is this reality which has let Bodegas Martín Códax become a symbol of Galician wines inside or outside of our borders/country.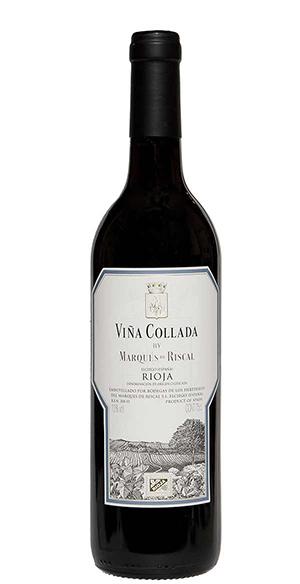 VARIETIES
Tempranillo 93%
Graciano 5%
Mazuelo 2%
PRODUCTION
Viña Collada has been made in our winery using grapes from our most traditional vineyard. The grapes are harvested by hand and fermented at a controlled temperature. This wine expresses the best features of our area, mainly thanks to its highly fruity character and its notably fine tannins.
TASTING
Appearance: Clean, intense dark cherry colour, with a violet hue. Nose: Young and open, with medium intensity. Aromas of strawberries and red cherries.
Palate: Medium-bodied with a pleasant ripe fruit flavour and a slightly toasted finish.
FOOD PAIRING

This wine's structure and body make it a perfect match for a wide range of dishes, from pasta and pulses, to poultry and roast meat, as well as chicken curry and pork.
TECHNICAL INFORMATION


ALCOHOLIC STRENGHT 14%

SERVING TEMPERATURE 16/18º

TIME IN BARREL 18 months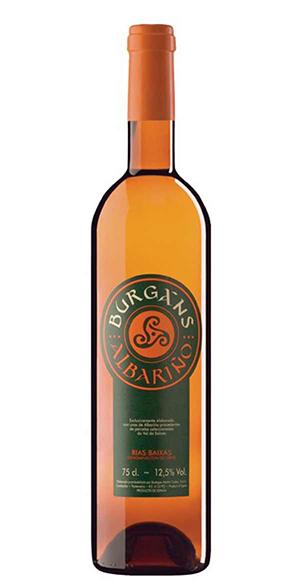 BURGANS is the name of the hill where the winery Bodegas Martin Códax is located. Right there, you can enjoy one of the most amazing views of the Salnés Valley which is surrounded by a range of mountains that separates this region from the rest of the province. It is open to the Ría de Arousa the sea coming inside the land and bringing all its treasures: oysters, mussels and all kinds of sea food.
VARIETIES
Albariño 100%
PRODUCTION
BURGANS is a modern and stylish Albariño that has been made following a strict process (vertical design of the winery, stainless steel vats, temperature control cold system…).
TASTING
APPEARANCE
A bright greenish yellow colour with golden highlights.
SMELL
A uniquely fruity aroma where the variety is clearly appreciated, highlighting hints of ripe apples, apricots, and peach aromas.
PALATE
It is rich, mellow and well-balanced. The aftertaste is fully rounded and off dry on the palate with juicy fruit flavours, clean acidity and a long, mineral-dominated finish.
FOOD PAIRING

Seafood, shellfish, poultry, rice, mild cheese
TECHNICAL INFORMATION


ALCOHOLIC STRENGHT 12,5%

SERVING TEMPERATURE 10/12º