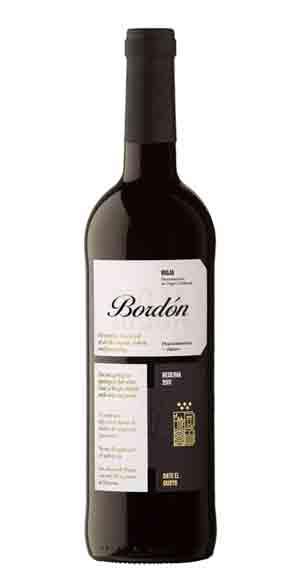 BEST LAND, BEST WINES, BEST ILLUSION…
RIOJA BORDÓN RESERVA.
A FULL WINE, WITH LOTS OF NUANCES, ITS QUALITY IS SUPPORTED BY A LARGE NUMBER OF MEDALS IN THE BEST NATIONAL AND INTERNATIONAL COMPETITIONS, AND BY HIGH SCORES IN THE BEST WINE MAGAZINES.
VARIETIES
Tempranillo, Garnacha tinta and Mazuelo.
PRODUCTION
Once the selection of the fruit, the production is based on the stripping of the bunches and the gentle crushing of the berries. After the alcoholic fermentation and the malolactic deacidification the wine passes into an American white oak barrel (Ohio) medium toast. The wine remains in barrels for eighteen months and their upbringing is interrupted every six months to make the traditional racking barrel to barrel.
TASTING
Bright ruby? Red color, their hallmarks in nose are a subtle toasty aroma, red fruits, sweet spices and light toffee touch. In mouth it displays a complex array of nuances where wood and fruit are perfectly assembled.
WINE AND FOOD PAIRING
Vegetables, 'spoon dishes', grilled meats or with sauces, roasts.
TECHNICAL INFORMATION

ALCOHOLIC STRENGTH 13,5%

SERVING TEMPERATURE 16/18º

TIME IN BARREL 18 months

AWARDS
Double Gold Medal :Berliner Wein Trophy 2015
91 Points : Wine Spectator, New Jersey: May 2015
91 Points : Wine Spectator USA: 2009
90 Points : Wine Spectator USA: 2008
Silver medal : Sélections Mondiales des Vins, Canadá: 2007
89 Points : Wine Enthusiast, EEUU: 2006
Double Gold Medal :Berliner Wein Trophy 2006
Gold Medal : Spanish Wines for Asia, Hong Kong: 2006
91 Points : Wine & Spirits USA: 2006
91 Points : Wine Spectator USA: 2006
89 Points : The Wine enthousiast, EEUU: 2006
90 Points : Guía Repsol, España: 2006
92 Points : Wine Spectator USA: 2005
90 Points : Wine Advocate (Robert Parker), EEUU: 2004
Gold medal : Decanter World Wine Awards: 2004
90 Points : Beverage Tasting Institute, EEUU: 2001