Bodegas y Viñedos Costers del Priorat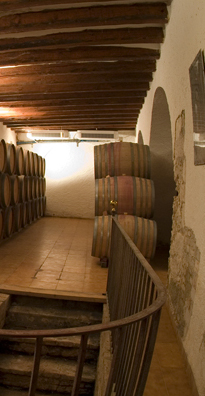 The Bodega
After reaching the cellar, the grape clusters are manually selected and each vineyard is vinified separately in small tanks. In the region, this is called 'Clos', that is, wine obtained from the grape clusters from a single vineyard.
The secret in the production of great wines like Pissarres and Clos Cypres is not only in the separate vinification of each vineyard, but also in the low overall vine production.
Owing to the scarce rainfall and quite infertile lands, small and concentrated grape clusters are produced with a high level of alcohol, mature and well-formed tannins that, along with the mineral tastes provided by the slate soil, shape one of the best wines for aging in oak.
With a minimum aging time of 18 months in French oak barrels, the wine of Costers del Priorat reach maturity and are bottled to then await the last step, refinement in bottle.
Priorat